Taylor Swift  new album, Midnights, gave her a record-setting start on the Billboard Hot 100. For the first time, all of the top 10 spots were taken by her songs.
Drake held the previous record for a week last year when he had nine of the top pieces. On Monday, Billboard said that Taylor has now passed Drake.
What Taylor Swift mentions about capturing the position?
Taylor Swift put out a new album called Midnights and a music video for a song called "Anti-Hero."
Drake's Certified Lover Boy had nine songs in the top 10 of the Hot 100, but Taylor's album Midnights was the first to have ten. Taylor went on Twitter to talk about the news and the Billboard report.
She wrote on Twitter, "10 of the Hot 100? On my tenth record? I AM IN SHAMBLES." Her song "Anti-Hero" was at the top of the Billboard chart. The lyrics "It's me/hi/I'm the problem/me" have quickly become a social media trend.
Taylor Swift now holds the record for the most number-one debuts on both the Billboard 200 and the Hot 100. This is the fourth time she has done this. With Midnights, she has also broken several records.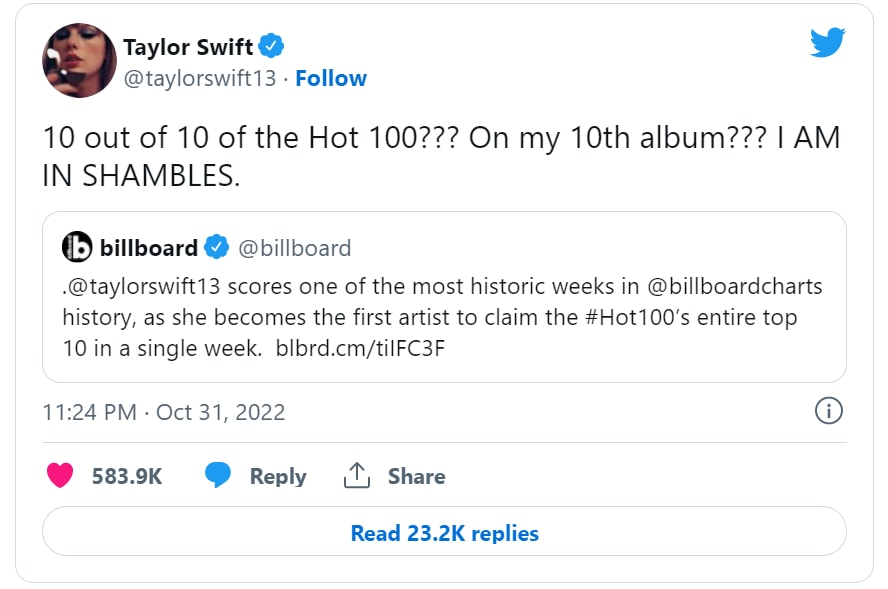 What is so special about her Billboard position?
On October 21, a standard version with 13 tracks and a deluxe version with seven extra tracks came out. Billboard said its release was one of the biggest in nearly seven years.
It noted that Taylor Swift is now tied with Barbra Streisand for having the most number-one albums by a woman artist. Midnights is her 11th album in a row. Moreover, this is at the top of the Billboard 200, the same number as Barbra's.
The No. 1 spot went to "Anti-Hero," replaced "Unholy" by Sam Smith and Kim Petras, who both made history with their No. 1 spot last week. In the fog of "Midnights," Taylor Swift's sound gets softer and more comprehensive. Midnights also gave Swift her eleventh No. 1 album on the Billboard 200 chart.
It was the biggest week for any album in seven years since Adele's 25. Billboard says that Taylor Swift has just tied Barbara Streisand for the most No. 1 albums by a woman.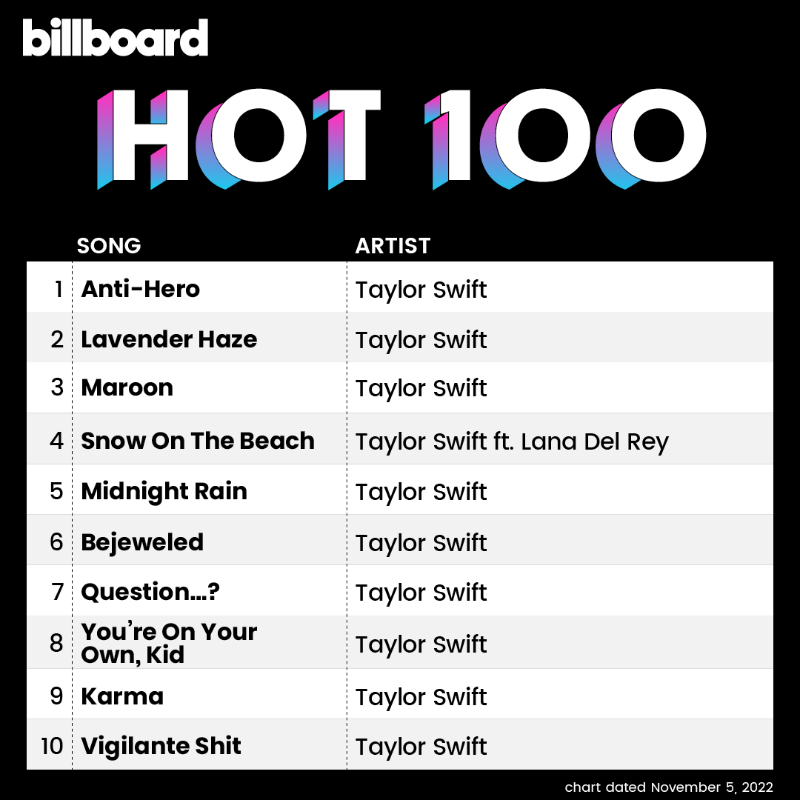 What records did her albums break?
The album keeps breaking records, like being the most streamed album in one day on both Spotify and Apple Music and having the third-biggest streaming week ever for an album. Swift's album Red used to have the most weekly streams for Swift in 2021.
Taylor Swift based Midnights on the classic trope of the midnight confession. She used a conversational singing style to tell stories about self-loathing, fantasising about revenge, and wondering what could have been.
Taylor Swift has been re-recording her old albums and putting out new music. Her old record label, Big Machine, reportedly sold her catalogue to a private-equity group for $300 million. She has put out new versions of her albums Red and Fearless.
Read More about Taylor Swift, Here